The Must-Have Outdoor Gear to Engage in Some Breathtaking Outdoor Activities
Posted by Knives Deal on 3/13/2019
After a long, hectic week at work, it is necessary to get involved in an outdoor activity that releases some stress and rebuilds your determination and focus. Yes, you can travel to other places, see some natural wonders, go to zoo, theme park, get involved in skiing, camping, snowboarding or hiking with your friends, but how frequently can you travel? Travelers know pretty well that they need a lot of spare time to travel to areas they want. Similarly, visiting zoo and other natural landscapes seems exciting to a limited extent. You need to engage in an outdoor activity that is nearest and consistently possible. Also, the activity which never lacks excitement and thrill. And see, you need to refresh at the end so that you get back to work with your mind stress free and your body relieved. If you manage to buy some outdoor gear, there are hundreds of ideas, but here I am going to disclose some breathtaking outdoor activities that you can become a part of, but, if you have the following outdoor gear.
1. Airsoft Gun
How many of you are familiar with airsoft? Ok, some of your are not. To those, airsoft is a growing sport around the world which involves competitive shooting. The players shoot their opponents with the guns, called airsoft guns. So, airsoft guns are the top outdoor gear you need to own in order to get involved in this thrilling activity. Where to buy the airsoft guns? I'm sure this is the first question you must be asking. Before you look to purchase them, know some facts about them. Airsoft guns are the replica guns that fire plastic BBs, hence, they are safe to use. In order to purchase them, you can search for them online. There are hundreds of online stores selling these guns at variables prices. You can simply make a comparison of the prices and figure out the cheapest among them. However, don't just be inclined towards prices, check for quality as well. Once you buy the airsoft guns, get on the field with this new outdoor gear. Which field? The airsoft field. The airsoft field is in fact the playground where the airsofters would be performing this activity. Holding the airsoft guns, the airsofters would be shooting their opponents and in the end the team with more players left would win the competition.
There are plenty of reasons why this is a necessary outdoor gear, and the foremost among them is the thrill of airsoft as a sport and competition. You will be working on tactics, hiding from your opponents, hitting the targets, testing your shooting precision, and in the end tasting a win. Running around, holding the guns and working on tactics would help building your physical stamina and mental strength. Plus, you will have some memorable moments that will stay with you throughout the week and prevent any stress at work. Hence, with airsoft guns in your arsenal, you can step foot on the airsoft field to experience the thrill of this fabulous outdoor activity.
2. Blow Gun
The second outdoor gear on this list is a blow gun. Yes, you must have a blow gun if you are eager to have fun and develop some life-saving skills. It will engage you in a couple of enjoyable outdoor activities, including hunting and fishing. Considering hunting, when did you last hear about hunting with a blow gun? Sorry, if you are not familiar with this type of gun, let me educate you. It is a ranged weapon incorporating a long tube to shoot lighter objects, typically darts. So, focus on darts. A dart would let you engage in hunting activity. If you want to have fun on your weekend with blow gun hunting, make sure that squirrel hunting is on your list. So, grab a blow gun and head into the woods. A couple of hours are enough to have endless fun and get rid of stress.
Blow guns are one of the cheapest outdoor gear on this list. You would have no problem losing the darts while hunting because it is extremely cheap. You can get to the forest with some 50 darts and start hunting squirrels. Not that it would just be fun, it would be a great opportunity to test your target hitting abilities and develop some self defense skills. However, try to pursue with hunting at afternoon. The second activity at which this outdoor gear can take you is fishing. Definitely, this seems odd and strange to you. You must be wondering how come the darts be useful for fishing. Darting a fish using a blow gun is almost as primal and raw as it gets. However, it will be a little challenging, but I suppose you won't mind taking a challenge.
You can take your blow gun and head to the nearby river, lake, or even a farm. But, it will be better to choose a place where fish are nearer the surface. Of course, your blow gun won't let you take down a big dolphin, but the dart will do the job for small fish. I promise if you get a blow gun and a few darts, you are going to have memorable time every weekend. A few hours hunting the squirrels or fishing with it will give you countless moments to enjoy and relieve the stress you have taken from a long working week.
3. Pellet Gun
Another outdoor gear that would engage you in hunting, but in a more realistic manner. Hunting with pellet guns is similar as hunting with the real guns. Even most of the hunters use these guns for hunting small game. Why pellet guns though? Pellet guns are powered by air and thy fire steel BBs which are enough to take down small game. In case of blow gun, squirrels were your target. However, you can broaden your target with pellet guns. Other than firing steel BBs, a huge advantage of pellet guns is that they have a long shooting range, and they are silent. Hence, you can expect them to be effective for hunting doves, rabbits, squirrels, quails and many more small game. Get a pellet gun and head to an appropriate place for hunting. Find your preferred targets and start hunting them. This won't just be a great idea for hunting, it will be a wonderful way of testing your shooting skills. Also, a pellet guns is excellent for target practice.
If you are not interested in hunting, there is another fine outdoor activity you can get involved in, and that is target practice. You won't be enjoying this activity alone, so get some partners and initiate a competition. Engage your friends in this sporty activity. You can make some teams as well and organize a competition where winner gets a reward. It is always nice to have fun with your friends alongside. Isn't it ideal to meet your besties at the weekend in the name of target hitting competition? You will have a get together where you can enjoy shooting on target and collecting some memories to recall in the future. And believe me, it is the best outdoor activity if your purpose is to refresh your mind after some stressful days at the office.
4. Throwing Axe
Don't confuse it with the throwing knives. A throwing axe is exactly an axe but has different features and designed to provide throwing accuracy. A throwing axe is used in a popular outdoor activity, known as Axe Throwing. Like Knife Throwing, it is also a popular sport and fun activity, but it involves an axe rather than a knife. So, this is a special axe and an amazing outdoor gear to have as of late. Buying a throwing axe would let you engage in a thrilling activity of axe throwing. If you can, buy a wooden target as well. But, this is not necessary as you can build your own target. You can place any wooden board you have at home as a target or make a new board from wood. But, you would need to draw the circles in order to specify the main target.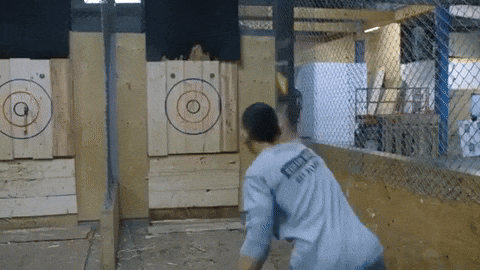 In this activity, you would be required to throw the axe from a specific distance and make sure to hit nearest to the main target. The axe need to stick into the wooden target as well. So, the participant who hits the target nearest more often wins the competition. Hence, this is another sport activity where you would determine a winner at the end. This activity will give you plenty of feel good moments. Here again, you can engage your family members, colleagues and friends to increase the fun. Get a throwing axe and engage in this breathtaking outdoor activity.
5. Crossbows
If you would like engaging in safe and fun hunting, this outdoor gear would let you do that. Make sure to get a crossbow and do hunting in a more traditional, but a fun way. Crossbows are excellent for hunting deer, yes, you can go for big game. You can sit on a tree and wait for deer to come and shoot him when it's closest. The advantage with the crossbows is that you can pursue silent hunting. With the crossbows, you are not limited to hunting small game or big game. You can be creative to have more fun. You can shoot the balloons, and other objects. If you are sick of small game, you can shoot great 3D dinosaurs. Sounds great? So, get any of these outdoor gear to at least experience one of these breathtaking outdoor activities. These are cheaper ways to have fun and relieve stress after working in the office for hours.